The Possibilities of Art in Society
3
Encounter the Noise of the World:
Children and the International Film Festival
The Yamagata International Documentary Film Festival (YIDFF), which began in 1989 as an event to commemorate the 100th anniversary of Yamagata City's municipal organization, celebrated its 30th anniversary last year. Since the festival is held every other year, next year's YIDFF 2021 will be the 17th festival. The subsidy we receive from Yamagata City for holding the festival was gradually reduced in the 2000s, but we are currently covering the shortfall thanks to support from the Japan Arts Council, various private subsidies, and from our regular and supporting members in addition to the Yamagata City subsidy. These efforts have made it possible to maintain the festival's scale as an international film festival, with two competition sections, International Competition and New Asian Currents, as well as a number of unique special programs.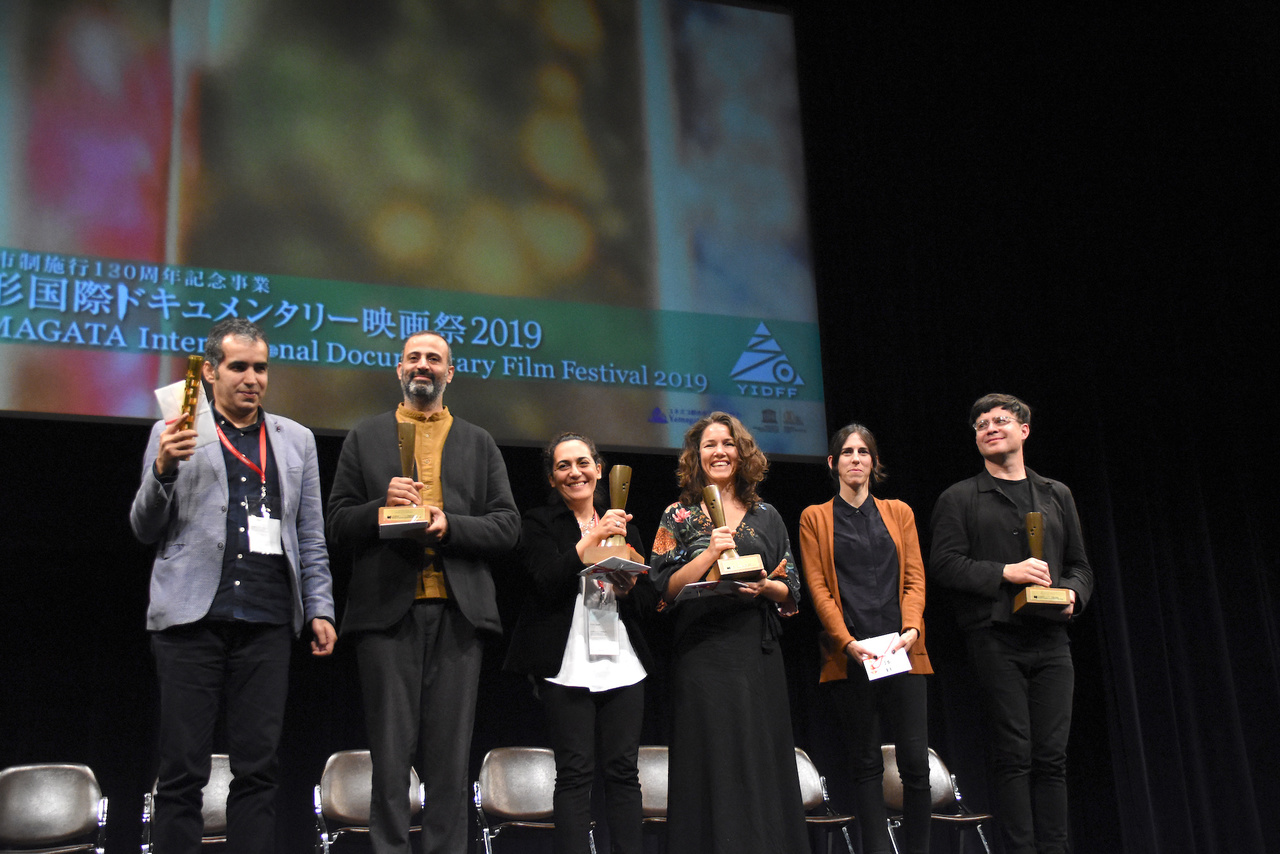 One of the biggest challenges for this festival, which is already one of the longest-running film festivals in Japan, is the development of younger audiences. In addition to old fans who have been coming to Yamagata for a long time, we have made various efforts generate interest in films and the film festival among students and other young people, especially children of school age. In this age when there is a vast number of diverse videos on the internet, we want them to experience the joy of being exposed to cutting-edge films and visual arts that have been created with time, effort, and sometimes even the directors' own lives. We would like to introduce some of our attempts here.
One such initiative is the participation of local junior high school students in the festival. The festival has for some time organized one-day excursions for guest filmmakers from around the world, guided by local junior high school students, to enjoy the spectacular early autumn scenery of Yamadera, a scenic spot in Yamagata City, with the cooperation of Yamadera Junior High School and the local community of Yamadera. This is not only appreciated by the filmmakers, but also serves as a good opportunity for the junior high school students to experience communication in English and a direct international exchange. In addition to this, we started group viewings of official screenings for junior high school students about 10 years ago, and since 2011, the project has been held four times. Among the junior high schools in Yamagata City that have asked to participate, first and second grade students are invited to the screening of international competition films, and to watch them with the general public and participate in Q&A sessions with the filmmakers.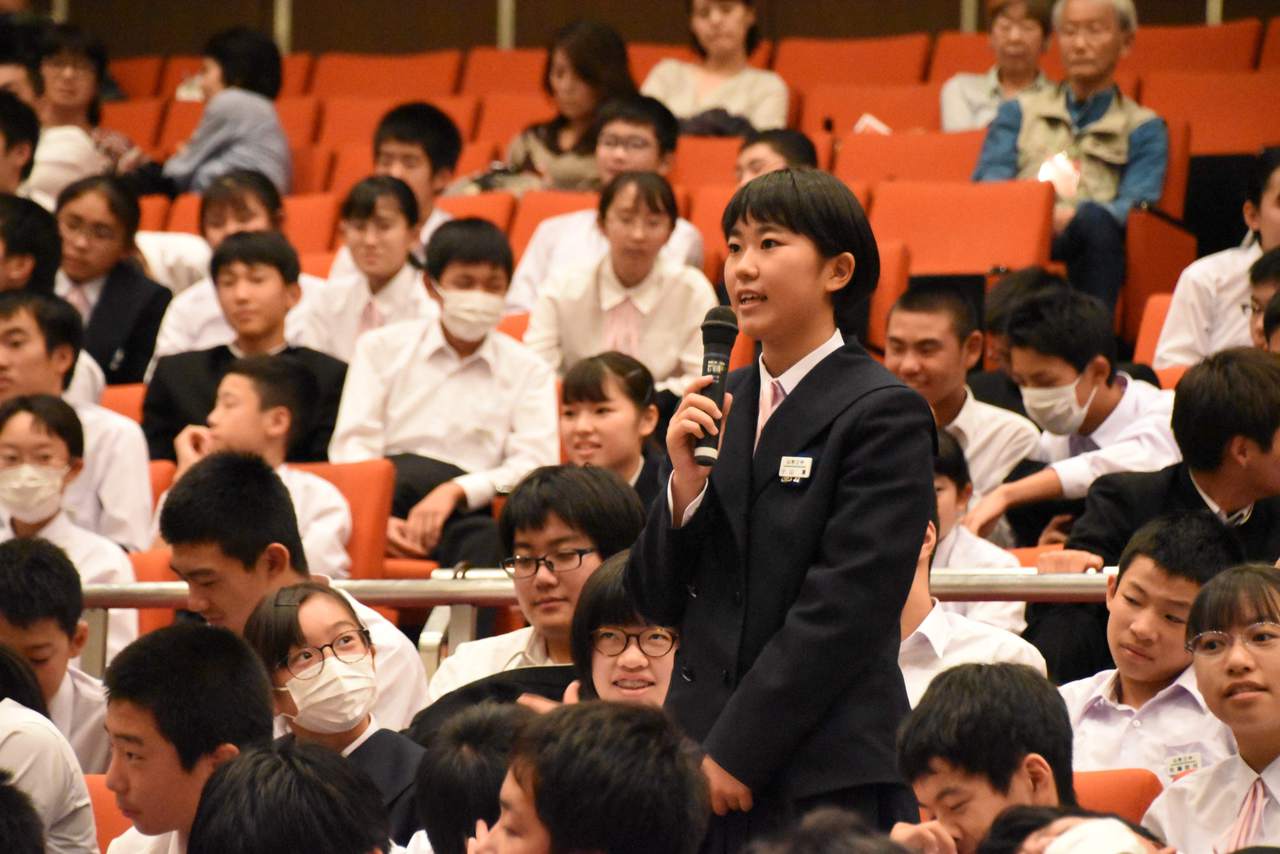 Three schools in the city participated in last year's film festival, thanks to a new transportation subsidy provided by the city's Board of Education. A total of about 300 first and second grade students watched In Our Paradise, a competition film by a French director that documents the lives of two impoverished sisters from Bosnia who attempt to emigrate to Europe with their family in search of a better way of life. Teachers and children at some participating schools studied the background of the film in advance, such as the history of the conflict in Bosnia, the situation of immigrants and refugees in Europe today, and issues of racism, to gain a better understanding of the content. This resulted in a flurry of hands being raised during the Q&A session, which was enlivened by questions about the motivation behind the creation of the film and comments from the children regarding their own impressions. The film focuses on the sisters' difficult daily lives, a mixture of faint hope for a better future and despair, but since there are no dramatic developments or major incidents, some teachers commented that they did not understand what the film was trying to convey. However, the children seemed to be more open to and understanding of the issues of poverty and discrimination depicted in the film, and after the Q&A session, the children gathered around the director Claudia Marschal and enjoyed a lively conversation. We hope that this initiative and support will continue next year and beyond, and that preparations will be made for children to have time to learn about the lives of people in unknown countries, to think about them, and to interact with the makers of such films.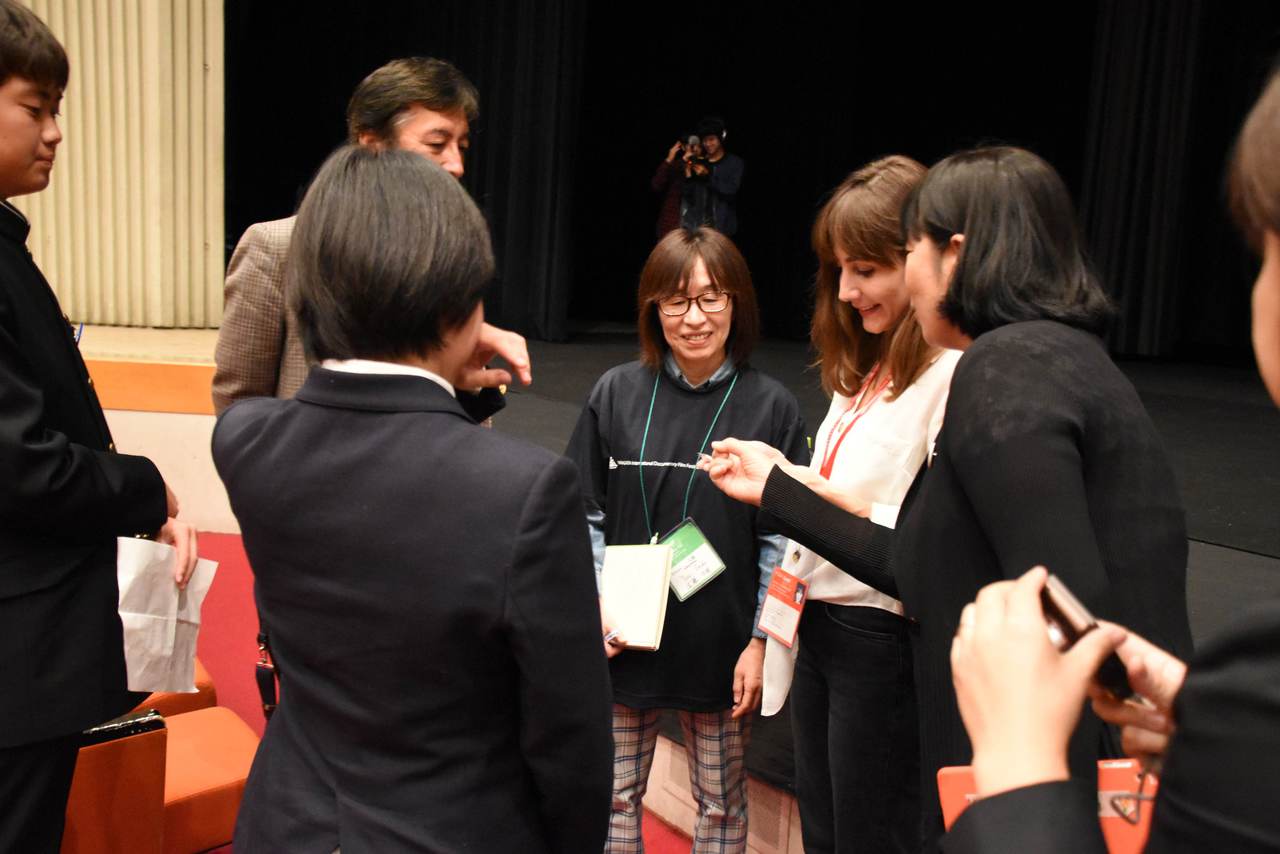 Another initiative to promote participation of younger audiences is to support the activities of a volunteer team of high school students called YIDFF Youth. The team was formed by a group of high school students in and outside the city who volunteered at the 2017 festival, with the goal of exposing high school students of their generation to the unexpected and interesting aspects of documentary film. The main activities of the group are planning and organizing screenings. They meet regularly to discuss the films and projects they want to present, make posters, and organize screenings at community centers and after-school high schools. During last year's film festival, some of them participated as volunteers at the reception desk with university students and adults on holidays and others moderated the Q&A session during the screening of competition films, while they also planned and held a party at a cafés in the city for high school students of the same generation to freely discuss their favorite films.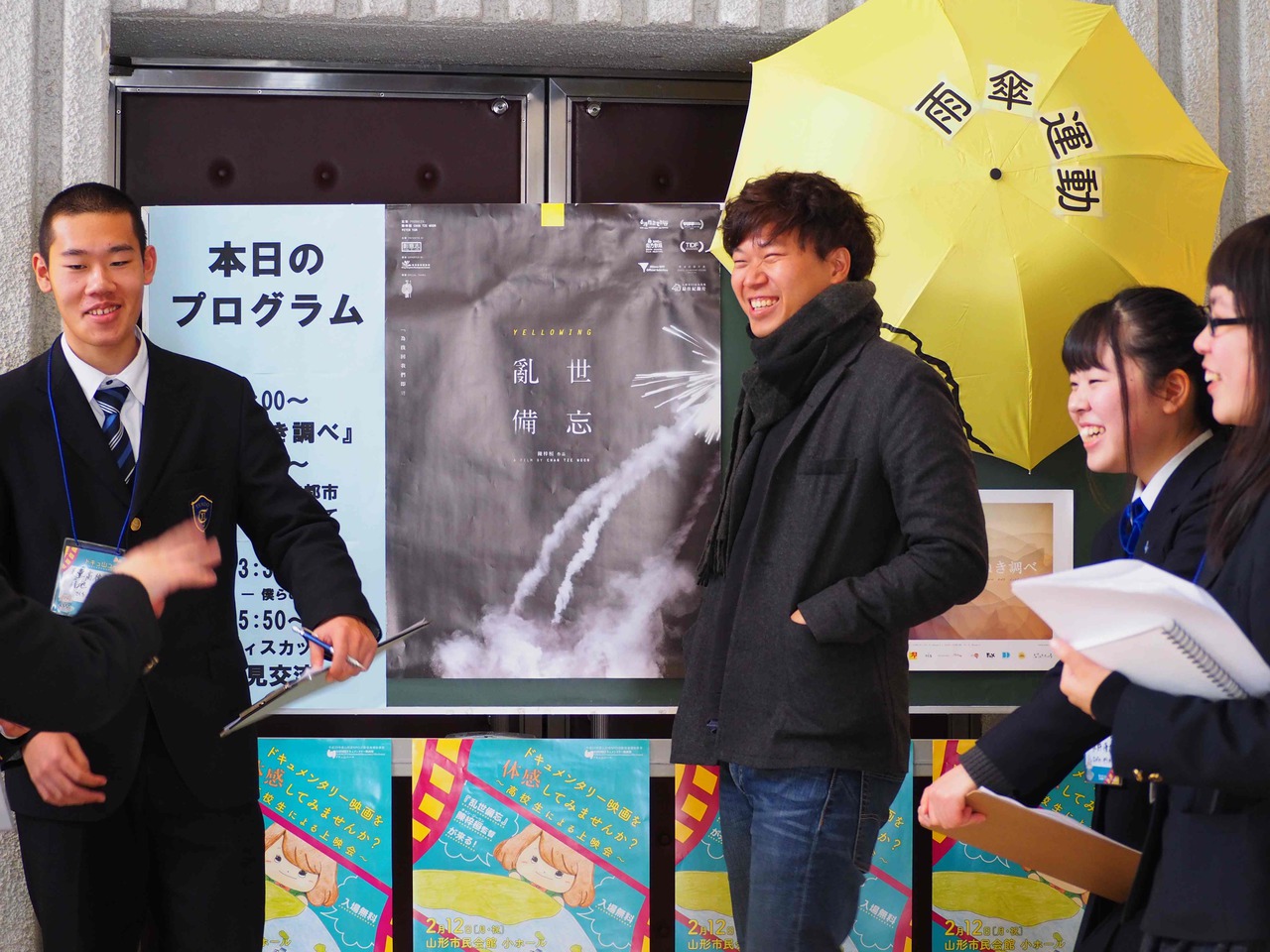 It is not surprising since the activities are voluntary, but what is pleasing to observe is that they are clearly participating because they really enjoy doing so. Of course, there are some students who can no longer participate due to job hunting or examinations, but the members are often joined by newcomers from several schools in the area, and they are constantly thinking up exciting plans. Maybe some of them were not that deeply interested in the films at first, and maybe some lacked full appreciation until the end, but the important thing is that something struck a chord in their hearts. I am sure that their time and experience will be an invaluable asset for them, including watching open-ended social documentaries, feature films longer than three hours, and abstract films that are hard to understand, as well as setting up their own screening events and enjoying volunteer works for this biennial festival.
Cooperation and collaboration with the local community are essential to the operation of a film festival. Above all, the educational significance of the involvement of the younger generation in international film festivals is immeasurable, but the effects of such involvement will not be immediately apparent. Long-term efforts and investment in the future of visual culture in general are needed. A good film is not a medium of communication that delivers a banal message or a simple, easy-to-understand impression, nor can it be described in the often-used and easy-to-grasp terms such as "a window into another world". Like works in other fields of art, it presents the incomprehensibility of this world in its complexity, and allows us to experience the normally unseen nature of our society, barriers, and noise that exist everywhere (even within ourselves), and thus can sometimes be an uncomfortable stimulant. Without realizing it, this can cause the audience to begin thinking about where that uncomfortable feeling comes. I hope that young people who will need to survive the coming chaotic times will not miss such opportunities, which are usually available in the cinemas around them, and will not be afraid to watch diverse films from various countries and encounter a world full of noise and contradictions. By doing so, I hope that they will realize and overcome their own stereotypes and commonly held notions and broaden their horizons to an extent that the older generation will never be able to expect.
(March 23, 2020)
Yamagata International Documentary Film Festival
Website: http://www.yidff.jp/
In 1989, Yamagata City held the first Yamagata International Documentary Film Festival to commemorate the 100th anniversary of its municipal organization. Since then, the festival has been held every other year, gathering outstanding documentaries from around the world and inviting international juries to screen them in a competition format. In 2006, its management organization became an independent non-profit organization. Each festival attracts a large audience of more than 20,000 people (including the members of the press) from Japan and abroad. In addition to the film festival held in October of every odd-numbered year, the organization holds monthly Friday screenings (featuring outstanding documentaries and masterpieces of Japanese cinema), children's film workshops (two to three times a year) and conducts other community-based film-related activities on a daily basis. In 2014, the 311 Documentary Film Archive was established. The archive collects and preserves documentary films related to the Great East Japan Earthquake and has built an online database of these films that helps to develop awareness both in Japan and internationally.
The festival has been awarded various prizes including the Suntory Prize for Community Cultural Activities in 2007, the Kawakita Prize in 2011, and the Second Prize of the Regional Regeneration Award in 2013. In 2017, Yamagata City was accredited as a member of the UNESCO Creative Cities Network in the field of film, in recognition of its active civic activities related to the visual arts, with the film festival at its core.