The Possibilities of Art in Society
1
It's Not What You CAN Do with Art, But What You DO with Art
The potential of art in society is endless. Rowing our small boats in the pursuit of various possibilities, a vast ocean lies boundless before us. As our hearts beat with excitement, will we challenge ourselves until all strength is gone? First, I would like to take a look back at the art activities connected to lives and minds, that I've been pursuing up to this point.
Hospital Art
The mind and body are the two wheels of human life. If either is missing, we cannot function well. But though medical technology has advanced, mental care is like an undeveloped country. I thought I wanted to help make up for that, even a little, with art, and so I've been working in the life-confronting setting of medical care. For example, creating refreshing art in hospitals. The Happy Doll Project, which spreads smiles through the creation of objects full of patients' interactions and hopes. In-hospital exhibitions of created art, and traveling exhibitions to hospitals both at home and overseas. And the always-fun activity of receiving artwork and memory books at Christmas.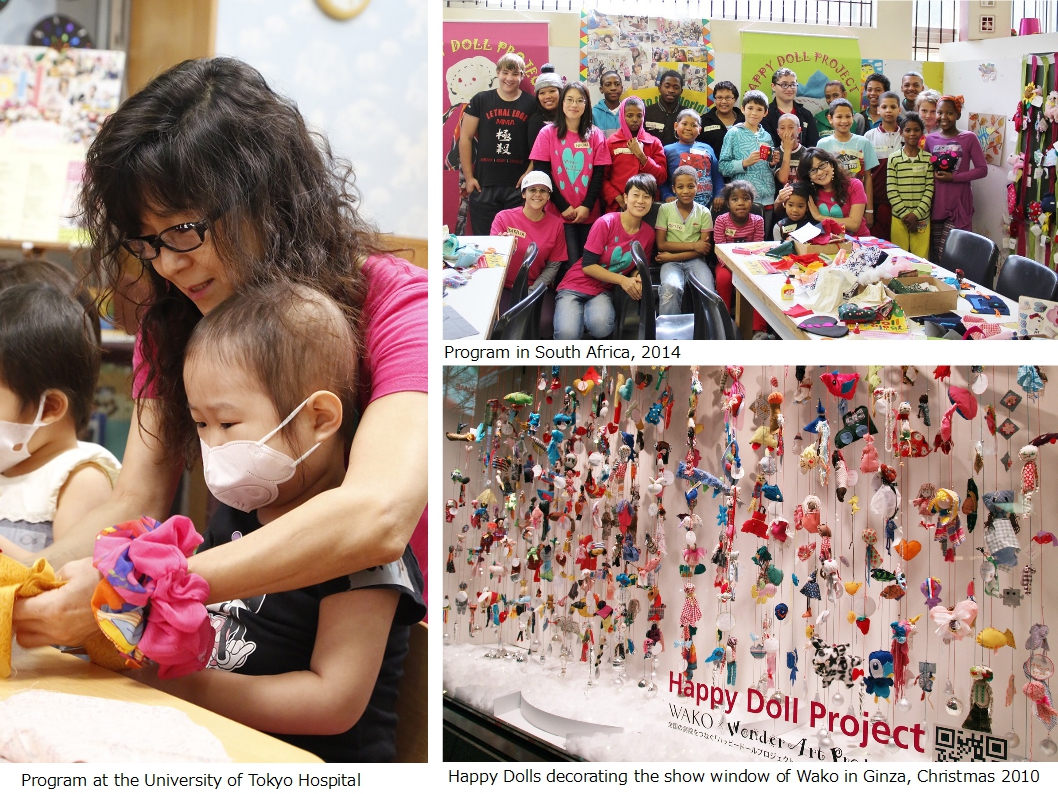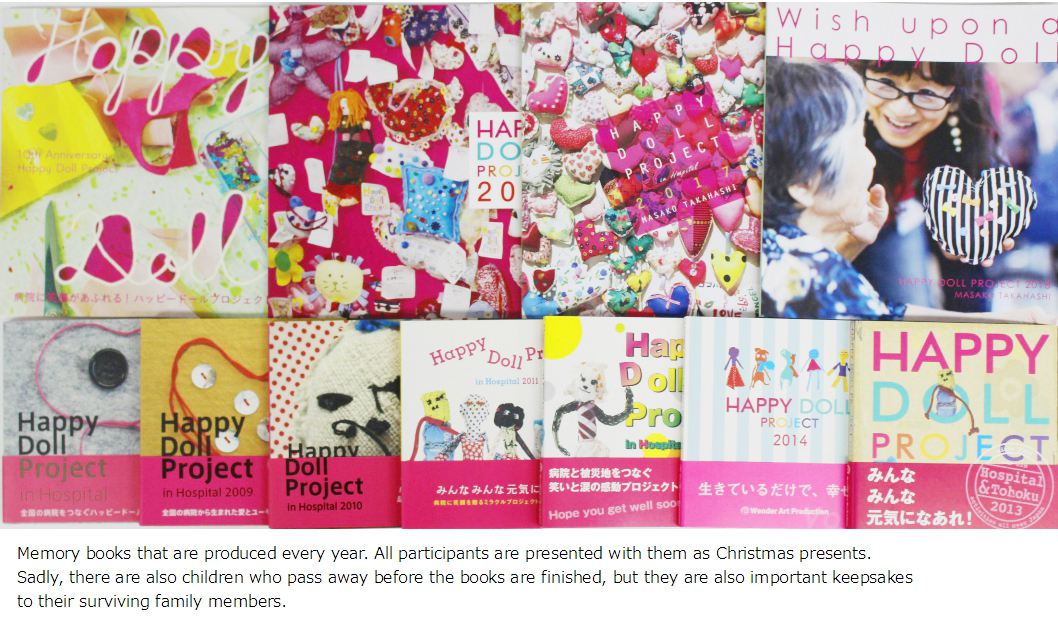 Children who are hospitalized long-term need opportunities to paint, play with colors, and open their minds. Colors nurture children's curiosity and positivity. They also have the effect of changing the color of the mind. Bringing color to a hospital brightens their eyes, lets their imaginations run wild, and give a refreshing feeling.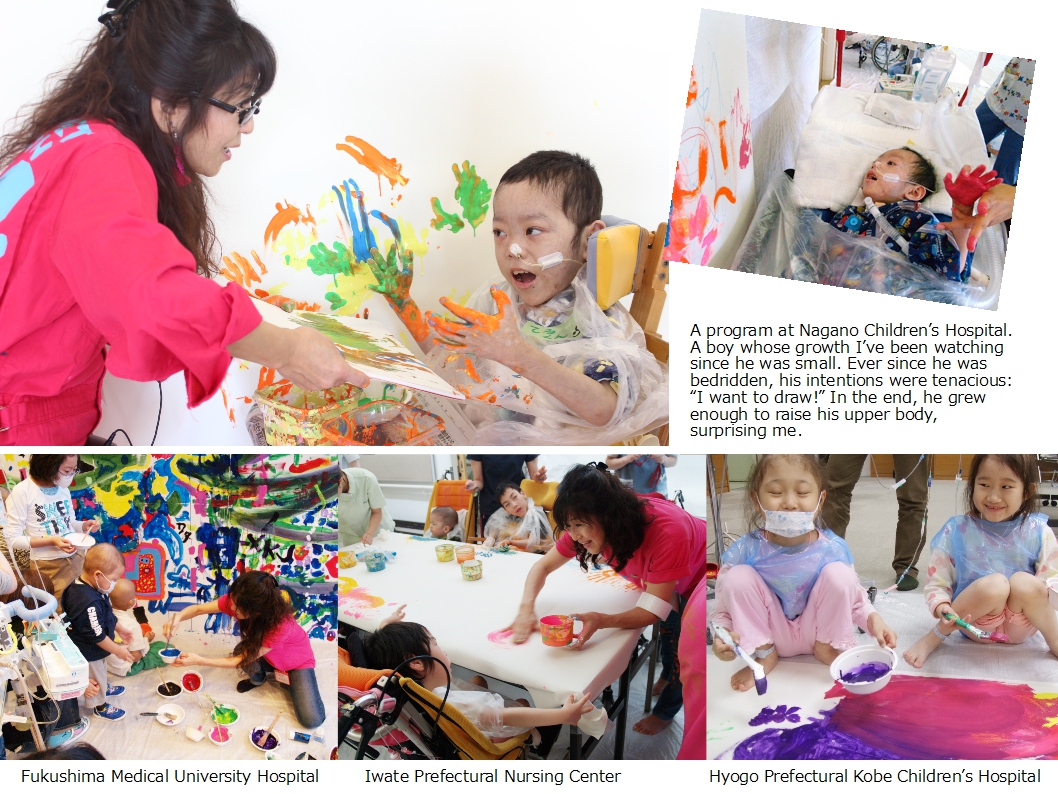 Whichever program it is, it is the patients themselves who make and create art. The hospital art I do is a creative activity in which the patients are in the leading role. The active steps of thinking, choosing, and creating on one's own awaken liveliness and self-esteem in an otherwise passive hospital life, and promote increased autoimmunity.
Meanwhile, as a hospital artist, I do my own designs in bright colors for medical facilities, drawing pictures and responding to requests to change them into comfortable spaces. Not only does the environment of a hospital where colors and designs have been added make a bright about-face, but the hearts of patients and staff also take on a lively, bright color, and there is a rejuvenating effect.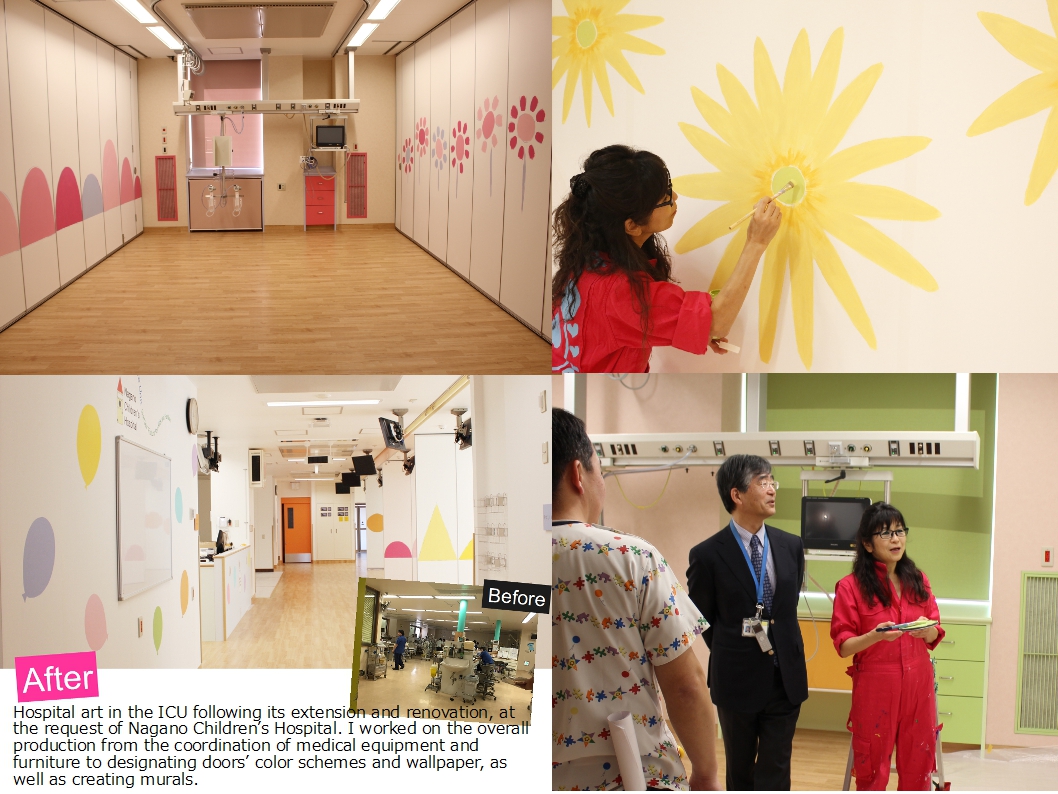 Art in the Face of Seismic Disaster
The Great East Japan Earthquake changed my own life and values completely. I was heartbroken by the unimaginable circumstances of its victims, and the days of leading emergency support team ARTS for HOPE to Tohoku suddenly began.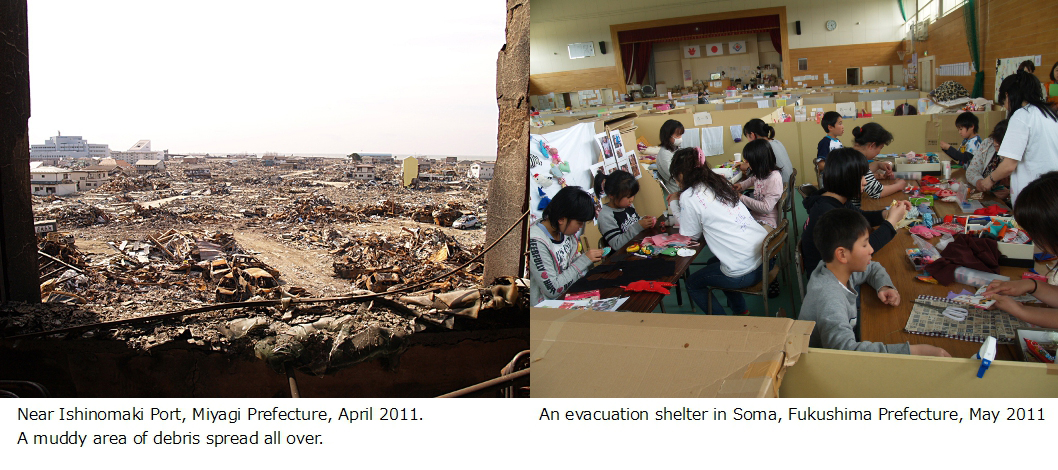 As I created, I would recover myself, crying, laughing, and getting back on my feet. While my work was meager, I really think those days supporting from the shadows have accumulated. Seeing the figures of men and women both young and old, silently creating in the corners of an evacuation shelter, I even felt it was human instinct. Assigning myself at least 10 years of support activities, I made repeated round trips. Once I noticed, it had been over 1,100 days of activity, and the local area had been constantly changing.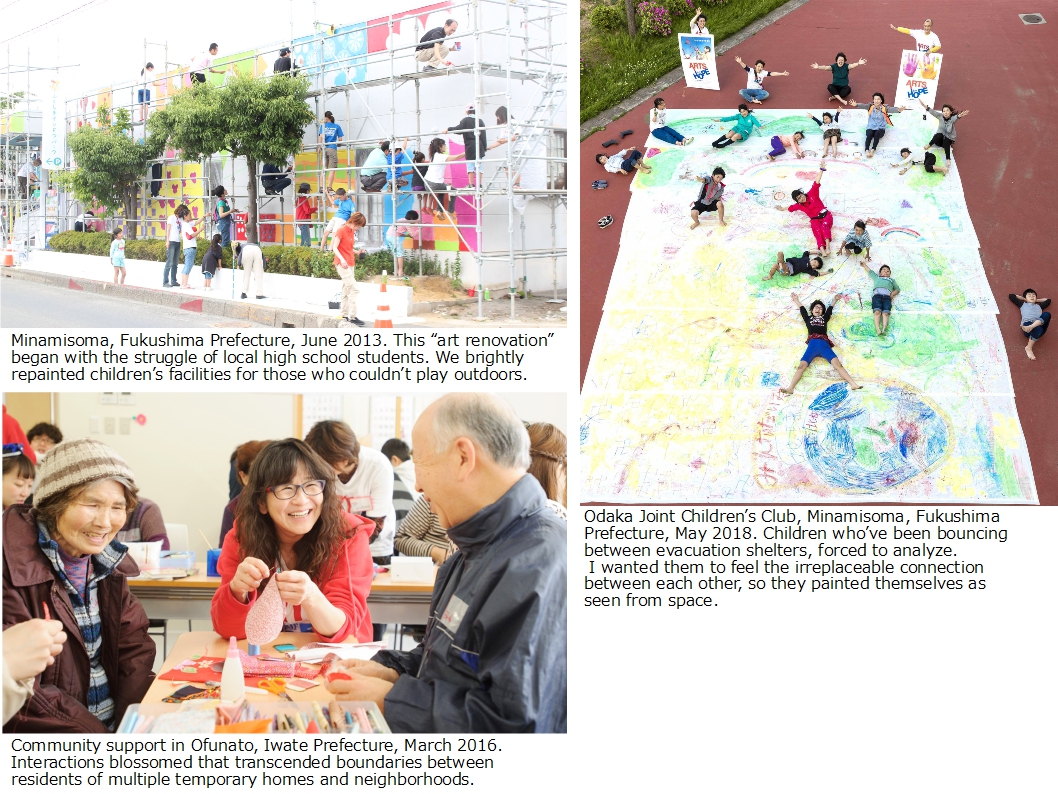 Activities supporting the spirit with art might only amount to a shower in the desert. However, to the children with a sense of loss, who were deprived of everything in an instant, I want to convey to them through the creation of art that even if they have lost everything, they have the power to recreate it, and that there is hope. I have continued my work with that desire in mind.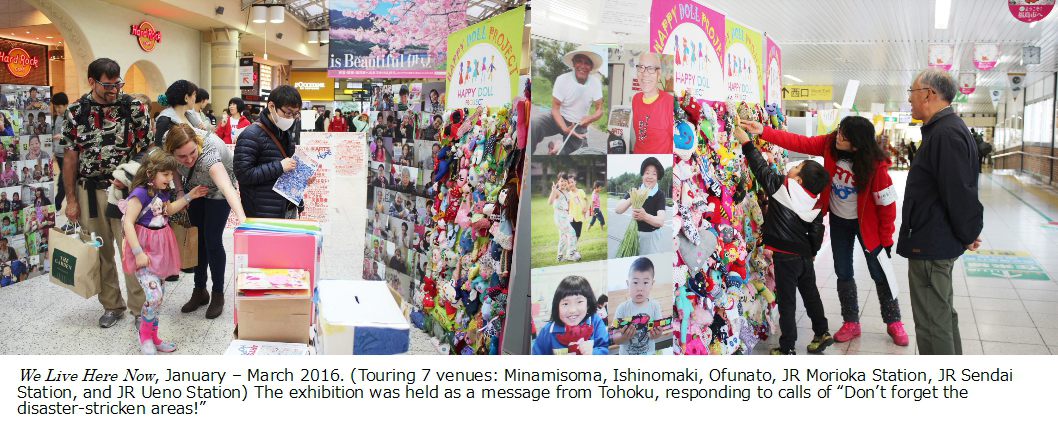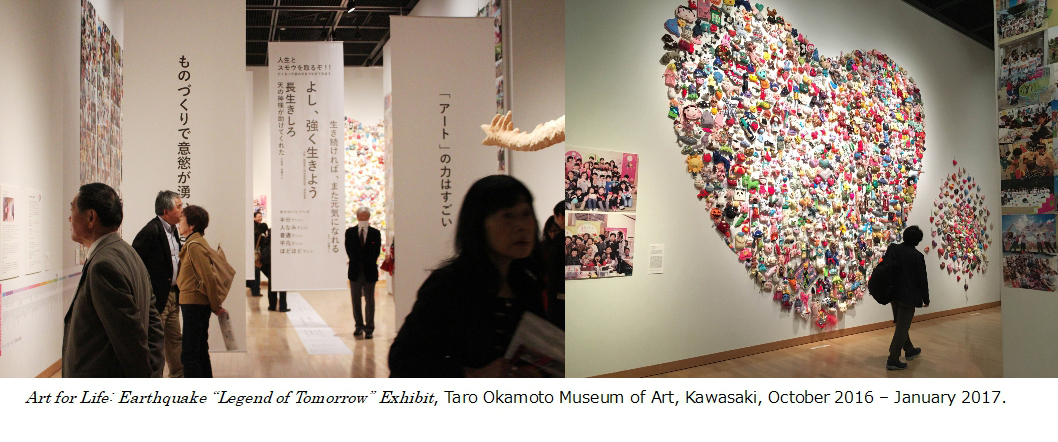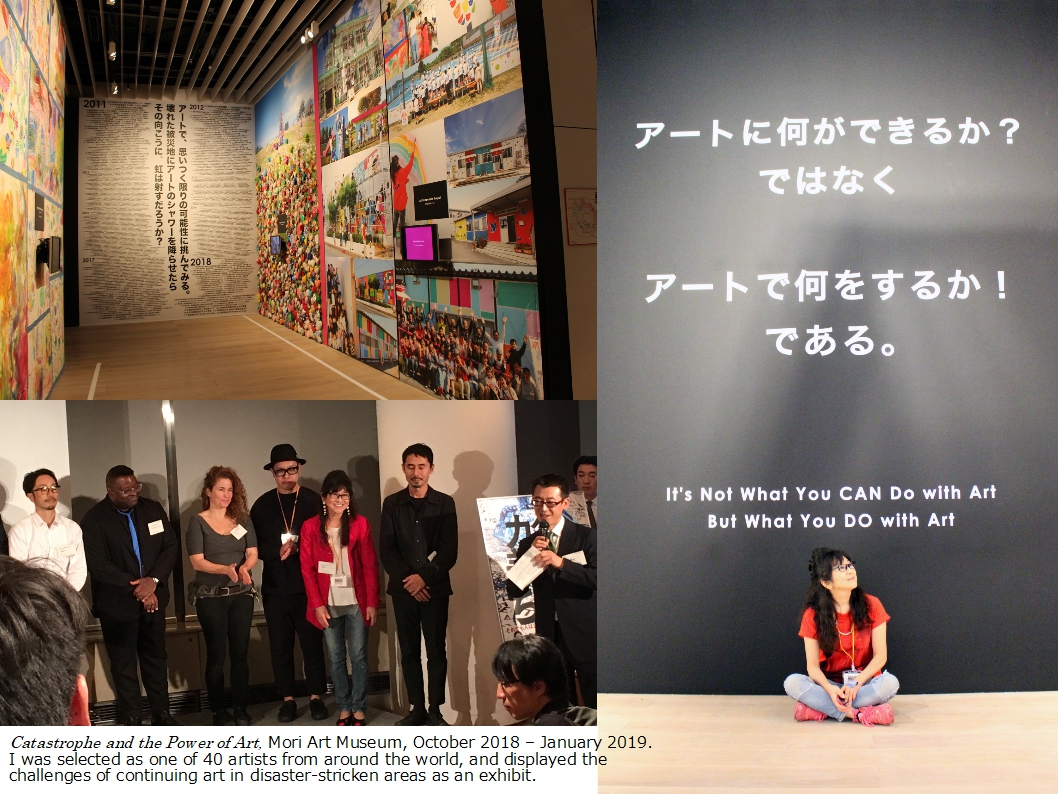 Borderless Art
A few years after the earthquake, the stress and problematic behavior of people with disabilities became apparent. After a succession of requests for support, I headed towards support schools and people with severe physical and mental disabilities. These were adults and children who, when they felt joy in spaces with a sense of security, agreeable communication, and art with which they can express themselves, showed calm smiles. I feel a great joy in that change, which moves my heart.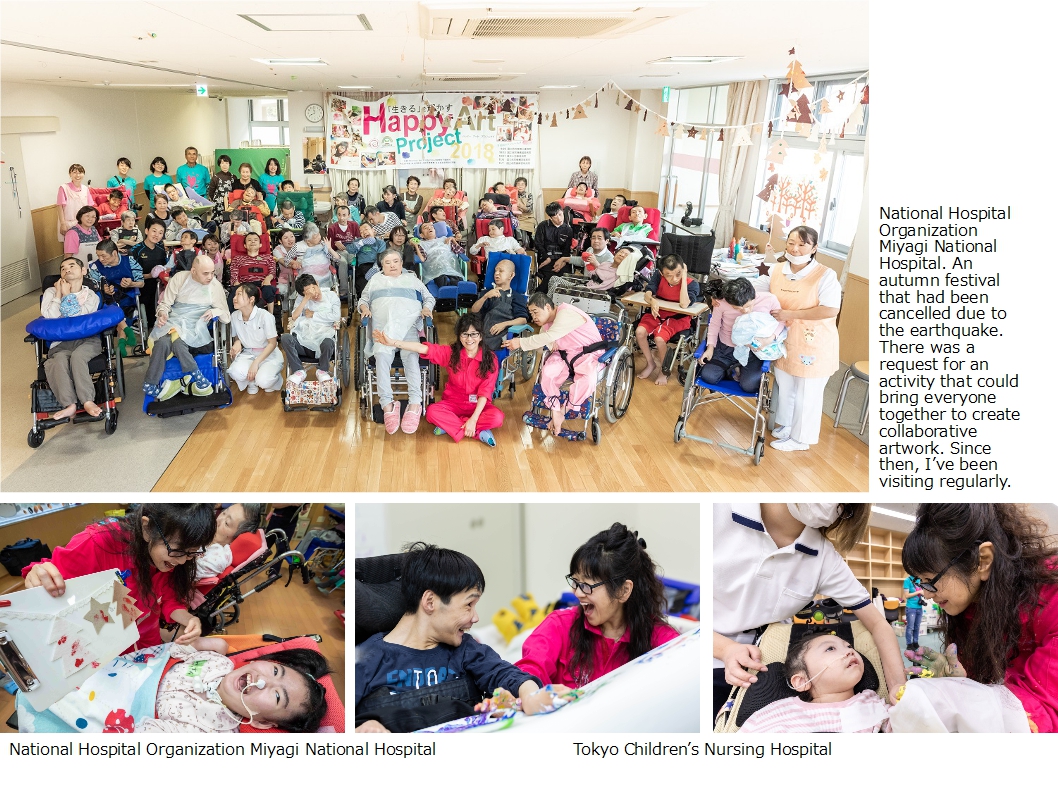 As I visited each hospital, there were many people with severe physical and mental disabilities, but they had no points of contact outside the hospital, and my heart hurt at the thought of being so closed off. So I decided to hold an exhibition that would show their lives and their radiance. However, since no visitors were expected to come, and a large commercial space had cancelled on us at the last minute, I changed my mind and held a "distributed exhibition," going outside to hand out 20,000 copies on the street.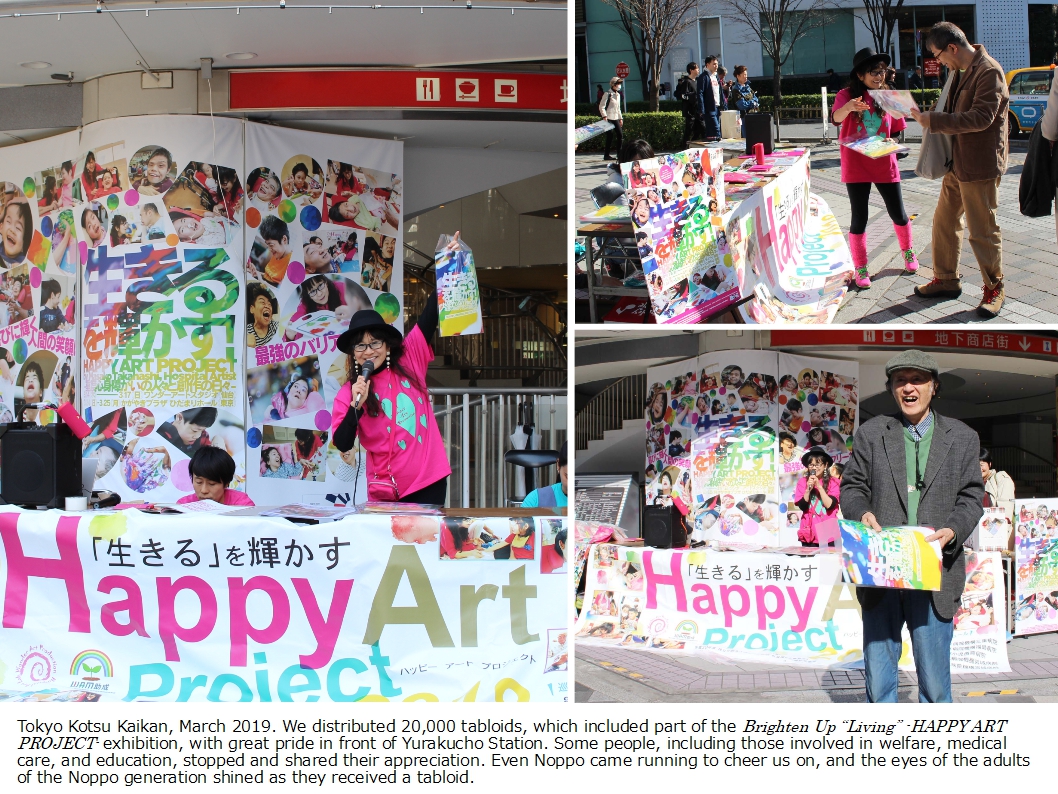 In addition, there was a need for a place where children and adults with disabilities could create and come together with peace of mind, and so we set up the borderless Wonder Art Studio in Sendai. I hope that the studio, which welcomes everyone from toddlers to the elderly, encourages a coexistence that recognizes differences, as it continues to carry out exchanges and programs surpassing the presence, absence, or variety of disability.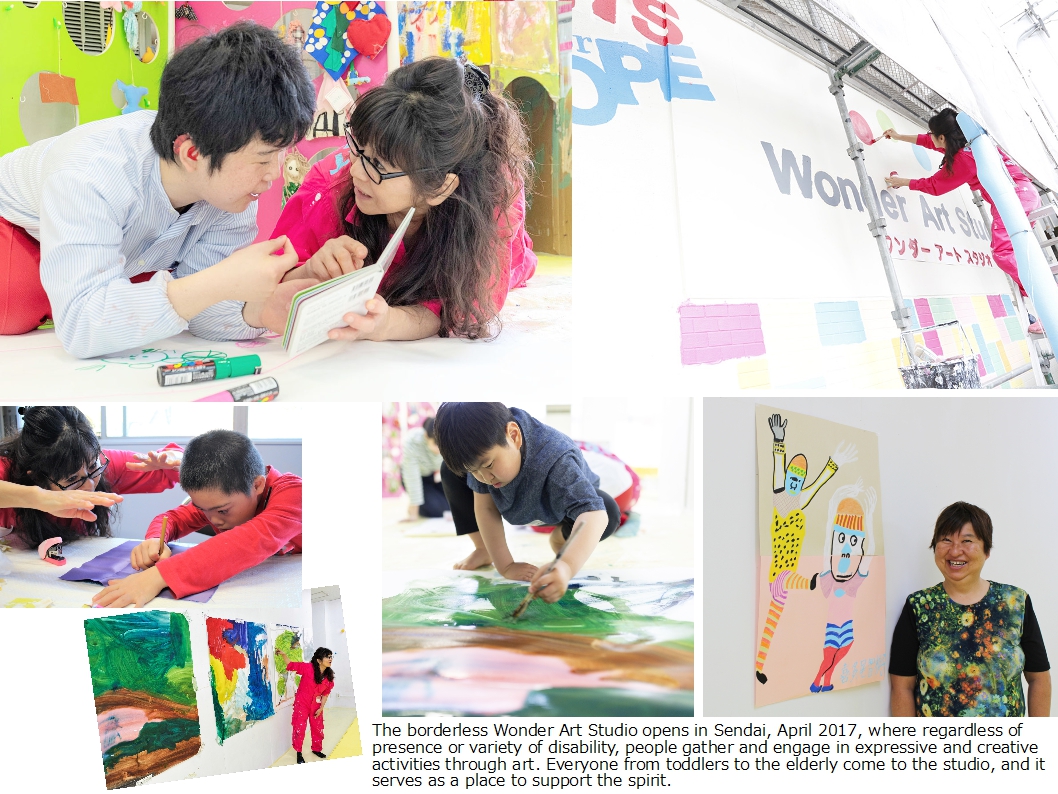 Last month, I was invited to a conference commemorating the 100th anniversary of diplomatic relations between Japan and Poland, held in Warsaw. I had the opportunity to attend presentations by around 40 people from both countries, and I was yet again amazed at the various ways art has influenced society. The possibilities of art in society are truly endless.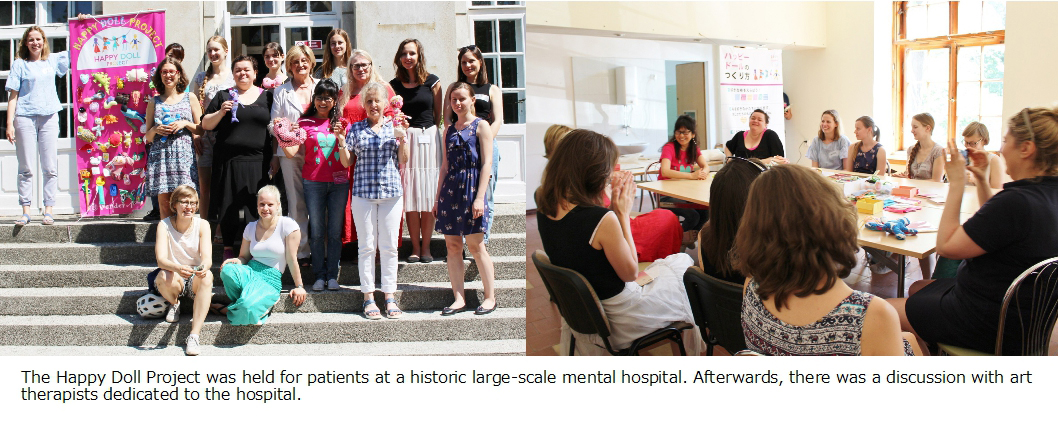 Of all the powers of art, none is as encouraging as the ability to cross any border. As unnecessary boundaries disappear from the world, and with the hope for a society in which all living creatures on this planet can connect and live, I want to take on everything I can think of with art, and keep changing the color of my heart, one step at a time. And, inspired through this site by artistic challenges from various people, I look forward to further public awareness.
July 3rd, 2019
Related Links